Continuous positive airway pressure (CPAP) machines are the gold standard in treating obstructive sleep apnea (OSA). But in order for CPAP therapy to be effective, CPAP machines require regular maintenance and replacement.
Traditionally, replacing CPAP equipment and accessories was the sole responsibility of durable medical equipment (DME) providers. These companies supply the medical equipment needed for long-term care at home or in healthcare facilities. Aside from CPAP machines and accessories, such equipment includes nebulizers, catheters, hospital beds, and wheelchairs.
The resupply process can be challenging because it has a lot of moving parts, from taking orders to scheduling deliveries to ensuring compliance with industry regulations. This is why more and more DME providers are partnering with medical resupply companies such as Revsuppliance to handle the various elements of the resupply process, saving DMEs time, increasing their revenue, and optimizing patient outcomes.
What does a resupply company do?
A resupply company manages the entire medical resupply process for DME providers. This involves:
Inventory management, to keep track of inventory levels and accuracy
Patient contact, to take orders from patients and verify their eligibility for the resupply items they ordered, which depends on their last order and what their insurance covers
Benefit verification, insurance benefits are verified to ensure the product shipping will be a covered item. An estimated cost of the order is provided to the patient
Shipping, which entails packing and sending out orders, and providing the DME and patients with tracking information
Follow-ups, which may involve the resupply company providing the DME with a list of patients to call or contacting the patients themselves, to find out how often the patients use the equipment, if they are having any issues, etc.
Why should DMEs partner with a resupply company?
Working with a resupply company not only directly impacts your DME business, but it also benefits your patients in myriad ways.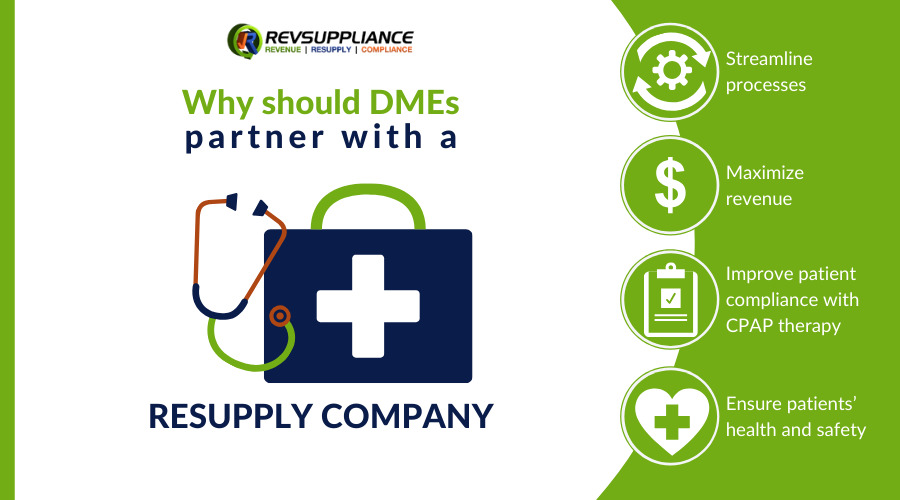 Streamline processes

Increasing the efficiency of your operations is one of the top benefits of partnering with a resupply company. Resupply solutions such as those offered by Revsuppliance take the burden of running a DME business off your shoulders, ensuring that everything runs smoothly while your patients get the right equipment they need on time.

With Revsuppliance, you don't have to worry about keeping stock of CPAP supplies — we have a full range of equipment and accessories from leading manufacturers. Also, our innovative system generates orders two weeks ahead of the shipment date, which is enough time to verify patients' insurance coverage and any changes that the patients or DME provider may request. We then send out the orders directly from our warehouse, and the DME can track the shipment using a US Postal Service-assigned tracking number through our web-based software.

Maximize revenue

One of the biggest and most common problems that DME providers face is securing reimbursements from Medicare and private insurance firms. After spending a huge chunk of their time on billing and collection, DMEs don't always get full reimbursements.

Revsuppliance has the experience needed to ensure that you get maximum reimbursements on time. Using advanced software, we will handle everything from claim prepping to invoicing to denial management, as well as assist you in managing your finances. We also provide comprehensive data security to ensure that your DME business complies with healthcare and insurance standards and regulations. With our optimized billing solutions, your revenues are maximized, giving you the freedom to focus on other aspects of your business.

Improve patient compliance with CPAP therapy

On average, CPAP machines need to be replaced every five years, but CPAP masks — whether nasal, full-face, or nasal pillow — need changing every three months. Meanwhile, mask parts such as cushions and filters need to be switched out for new ones once and twice a month, respectively.

Most OSA patients don't replace their CPAP machines and accessories on schedule. Many are not even aware that they can do so or if they are, they don't know how to go about it. Often, this leads them to discontinue CPAP therapy, which can have various negative effects on their health and quality of life.

Enrolling your patients in a resupply program such as that offered by Revsuppliance ensures that they get replacement CPAP equipment regularly, improving their adherence to CPAP therapy. Using our innovative Call Trak system, the Revsuppliance team places patients on a replacement schedule. This schedule is based on each patient's preference — they can choose to be contacted every 30, 90, 180, or 360 days. Our friendly and knowledgeable staff reminds them to change their supplies and confirm their next shipment, as well as provide them with useful information about CPAP machines, including proper use and troubleshooting common issues.

Ensure patients' health and safety

Most newer CPAP machine models come with a built-in or an attachable humidifier. A humidifier adds moisture to the pressurized air that the machine delivers to the airway, reducing throat irritation and dryness.

While beneficial to patients, the moist, warm air creates the perfect environment for mold to grow. Exposure to mold can cause a host of health issues, including nasal congestion, wheezing, coughing, and eye and nose irritation. Also, the natural oils and dirt from skin can build up on a CPAP mask over time, making it a breeding ground for bacteria.

Having a reputable resupply company provide your patients with CPAP supplies on a regular basis helps reduce their exposure to disease-causing microorganisms, which could keep patients from getting the full benefits of using a CPAP machine.
Revsuppliance's experience and expertise have made us the trusted resupply partner of DME and healthcare providers across Oklahoma. For more information on how we can help your organization and your patients, or to schedule a demo, call us at 405-467-1791.