The work of a durable medical equipment (DME) provider is never done. There's always something that needs your attention in your quest to deliver continuous positive airway pressure (CPAP) machines and supplies on time and without a hitch. As busy as you are, it's inevitable for some things to fall through the cracks from time to time. This isn't something you can afford to happen, especially since doing so may compromise your patients' health and well-being.
This is what makes a CPAP resupply program an important part of any DME business. It streamlines the myriad processes involved in getting obstructive sleep apnea (OSA) patients the equipment they need. In doing so, they enable patients to use CPAP machines comfortably and continuously and, in turn, reap the full benefits of CPAP therapy.
A successful CPAP resupply program comprises the following elements:
Inventory management
The DME provider keeps track of the levels and accuracy of their inventory. This involves making sure that your warehouses are well stocked with all the essential CPAP equipment, including machines, masks, headgear, cushions, and air filters, among others.
A resupply program involves the use of inventory management software (IMS) to monitor stock counts in real time, across all branches of your DME business. With IMS, you can easily add new items to your inventory as well as check what products have been dispensed and what needs to be replenished. This allows you to reduce inefficiencies in your operations and increase cost savings.
Patient contact
Enrolling your patients in a resupply program ensures that they never have to worry about running out of fresh CPAP supplies and that they stick to their therapy. Patients are put on a resupply schedule, which makes it easy to keep track of when they're due for new masks, tubes, and the like. When it's time for a patient to replace their equipment, you simply call to remind them and confirm their order. Ideally, you should follow a call script to ensure that you get all the information you need to process the order. This includes how often a patient uses the CPAP machine, any changes in the patient's personal and/or insurance information, and any equipment issues as well as the reasons for such.
DME providers should document all information collected during a call in the patient's clinical notes. The more detailed the clinical notes are, the more efficiently you can resolve patient issues. Also, you should maintain and provide access to your patients' clinical notes for auditing purposes. Medicare requires that DMEs keep sufficient documentation to establish the medical need for the equipment each patient orders as a condition of payment.
Benefit verification
Before fulfilling an order, you must verify a patient's insurance benefits. This is to ensure that Medicare or a private insurance firm will cover the cost of the item the patient ordered. Once you verify the patient's eligibility and allowables, you can send the patient an estimated cost and collect co-pay from them, if necessary.
Drop shipping
The order is packed, shipped, and delivered right to the patient's door. The patient is provided with the shipping and tracking information so they can check where their package is through your website or an online portal. This information is also added to the patient's clinical notes as proof of shipment.
Follow-ups
Routine follow-up calls assure patients that they can always reach out to you about any concerns they may have with their therapy. Also, follow-ups provide an avenue for education on CPAP best practices and for the identification and resolution of any CPAP therapy issues. Depending on the issue, you may have to refer the patient to a clinician or their primary care provider.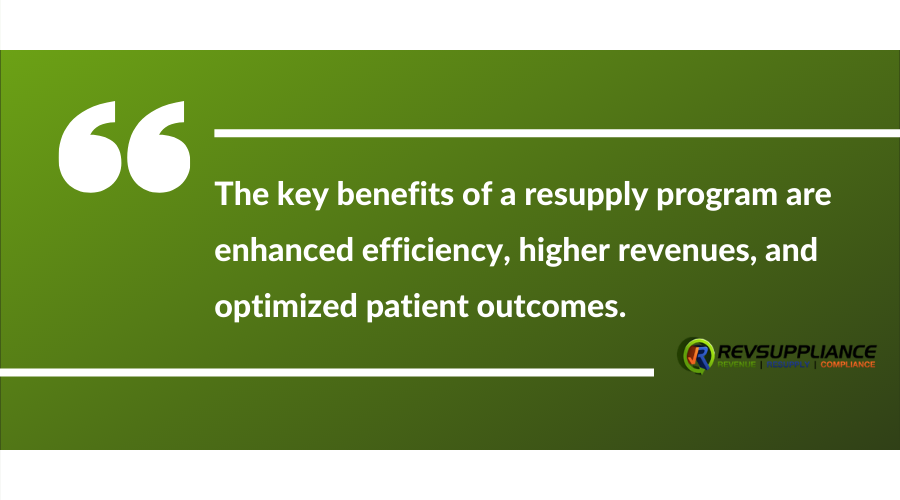 The key benefits of a resupply program are enhanced efficiency, higher revenues, and optimized patient outcomes. Revsuppliance can provide you with all of that through our comprehensive resupply solution. Using our proprietary software, we'll generate orders two weeks ahead of the shipment date, leaving enough time to verify patients' insurance benefits, and ship orders directly from our on-site warehouse. We'll also help you get reimbursements on time and secure your business's and your patients' data, as well as maintain compliance with industry standards.
Ready to experience the advantages of Revsuppliance's proactive, full-service resupply program? Call 405-467-1791 today to schedule a demonstration.