The coronavirus pandemic caught many businesses unawares, but none were harder hit than those in the healthcare industry. For months now, healthcare organizations in Oklahoma and across the globe have struggled to care for the growing number of COVID-19 patients, as well as individuals without the deadly disease, yet still need medical help. These include patients getting treatment or therapy at home or in long-term care facilities.
Luckily, durable medical equipment (DME) and home medical equipment (HME) providers and manufacturers have stepped up to fill this need. Despite setbacks due to the spread of the coronavirus, they have doubled their efforts to deliver quality products and services to patients without issues and delays. Here's how your DME or HME company can ensure that your patients get the superior care they deserve during this crisis and beyond.
Adopt a resupply program
One of the biggest concerns, when the pandemic broke out, was the shortage of medical equipment, including those for home and hospice use. To keep this from happening, the US government invoked the Defense Production Act to facilitate the supply of materials for ventilators, ventilator tubing, and other critical medical equipment.
Many DME and HME manufacturers immediately stepped up production to meet the increased demand for their products. In mid-March, Ventec Life Systems CEO Chris Kiple said the medical device company aimed to increase output from hundreds to thousands per month, and that it was working closely with suppliers to ensure that they don't run out of the parts they need.
Shipping delays are unavoidable, however. The larger-than-usual order volumes, coupled with the implementation of stricter health and safety measures in warehouses and shipping facilities, mean longer processing times. By implementing an automated resupply program, your DME or HME business can streamline the order and delivery processes. This ensures that patients get the equipment and supplies they need as quickly as possible.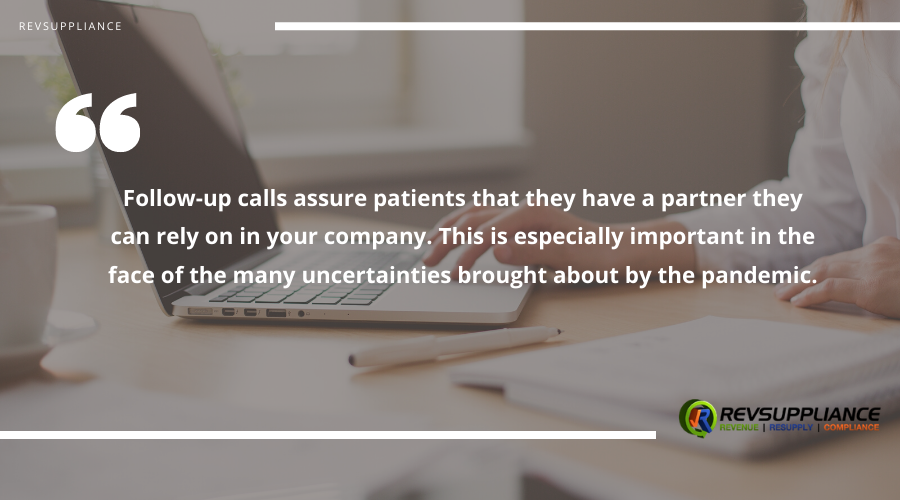 Keep informed and up to date
Throughout the pandemic, keep abreast of the latest news about the coronavirus as well as the DME and HME industry. This will enable you to give patients sound advice during these confusing times. Right now, for instance, the best advice you can give patients who suspect they have the virus is to seek medical help and get tested immediately. A medical professional will be able to recommend the best course of treatment for them.
You should also be able to address any concerns they may have about the medical equipment they use. For example, patients with obstructive sleep apnea (OSA) may have questions about continuous positive airway pressure (CPAP) machines, which are the standard treatment for OSA. They may ask you if they can use a CPAP machine if they have COVID-19, if OSA puts them at higher risk of infection, or if using a CPAP machine can drive the coronavirus deeper into their lungs. Being able to answer these and other questions related to CPAP, OSA, and the coronavirus will put patients at ease and show them that you care about their health and safety.
Stay in touch with patients
In addition to going the extra mile to deliver products on time, staying in touch with patients should be one of your top priorities during — and even after — the pandemic. Routine follow-up calls ensure that patients stick to their treatment or therapy, use medical equipment properly, and receive fresh supplies regularly. In turn, this results in improvements in their well-being and quality of life.
What's more, follow-up calls assure patients that they have a partner they can rely on in your company. This is especially important in the face of the many uncertainties brought about by the pandemic. Remember that a little support, kindness, and compassion can go a long way. When you call them, greet them by name. Ask how they're doing or if they've seen any good movies or TV shows lately. Listen to what they have to say. And before you hang up, ask if there's anything else you can help them with. Doing these demonstrates your interest in and care for them, and leaves them with a positive experience.
Our commitment to delivering the highest-quality service to DME and HME providers and their patients is what makes Revsuppliance one of the most trusted resupply companies in Oklahoma. Call us at 405-467-1791 or schedule a demonstration to learn about how we can help you.