Technology has always been essential to business success, but never has it been more important than in the last few months. The COVID-19 pandemic, which has crippled the global economy, has made adopting new technologies an even bigger priority for businesses across all sectors — and durable medical equipment (DME) providers are no exception.
Here are three ways by which technology can help DME businesses like yours overcome the challenges of the current health crisis.
Enables work from home setups
Even before the pandemic, your DME business was probably already using cloud-based software as part of your continuous positive airway pressure (CPAP) resupply program. Such software may include those for customer resource management (CRM) and billing and coding. If you and your employees are now working remotely in an effort to curb the spread of the coronavirus, these and other cloud applications are more important than ever.
Not only do these programs streamline your workflows, but they also give your team access to business-critical data such as your patients' health and insurance information from any internet-connected device. This means your staff can fulfill orders, follow up on patients' use of CPAP machines or other DME, and process reimbursement claims regardless of location.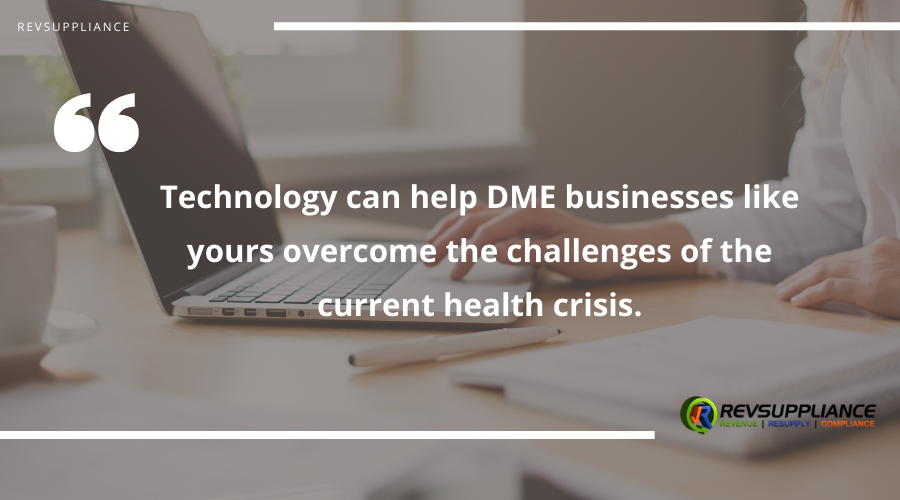 Cloud-based communication platforms are also essential to remote work. Besides keeping your distributed employees connected with one another as well as with partners and patients, these programs also have file sharing capabilities that enable efficient collaboration. For instance, Slack and Microsoft Teams allow your employees to share files with one another in a one-on-one or group chat, or a team channel. They can even exchange documents with patients, vendors, and other third parties who are also using these apps.
On top of having robust security features such as multifactor authentication and end-to-end encryption, Slack, Teams, and similar programs can be configured to make your communications HIPAA compliant. With these in place, you don't have to worry about patients' protected health information falling into the wrong hands and being used in fraudulent schemes.
Allows remote and self-monitoring
Newer CPAP machine models come equipped with monitoring technology, which allows DME providers to remotely track patients' usage and compliance. Data such as the number of hours a patient uses their machine per night and the patient's apnea-hypopnea index is automatically transmitted to the DME provider. The information is then relayed to the patient's physician or a treatment specialist for evaluation.
Patients can also monitor their usage and compliance by enrolling in programs such as ResMed's myAir. This online support program and mobile app automatically sends data from certain models of ResMed CPAP machines to a patient's smartphone or tablet, allowing them to view important information about their therapy. They can share this information with their primary care provider or a sleep specialist, who may find this data useful in treating the patient's condition. myAir also provides personalized tips to help the patient stay engaged as well as answers to common questions about CPAP and OSA.
Used in tandem with telemedicine software, CPAP monitoring technologies reduce the need for patients to go to their doctor's office for a checkup, thus lowering their risk of coronavirus exposure. This is especially important since people with OSA could be at a higher risk of contracting COVID-19 and experiencing serious complications. Fortunately, OSA patients can avoid exposure by dialing into a virtual meeting with their doctor, who can discuss the patients' progress. If needed, the doctor can also recommend changes that will make CPAP therapy more effective and more comfortable.
Makes contactless delivery possible
Following recommendations from the World Health Organization and the US Centers for Disease Control and Prevention to practice social distancing to limit the spread of COVID-19, many courier services promptly implemented contactless delivery protocols.
Among the contactless delivery protocols now in place include having couriers take a photo of the parcel and/or the recipient in lieu of getting a signature. To make this step easier for couriers, some DME manufacturers have added a photo capture capability to their mobile delivery applications. This lets the courier take a photo straight from the app, without having to open the camera on their mobile device. The photo is then made available to the DME provider, who may need it when filing for reimbursement from Medicare or a private insurance firm.
Revsuppliance stands by the DME providers committed to delivering the highest-quality care and service to their patients even in the face of the pandemic. With our proprietary resupply software and friendly, knowledgeable specialists, DME businesses in Oklahoma and across the United States stand to improve their efficiency and, in turn, better serve those who rely on them. Schedule a demonstration today: 405-467-1791.